8 Port Server Front and Rear View

16 Port Server, Front and Rear View

Standard 19-inch rack-mount 1U high metal housing
Each port may be independently configured
Software selectable RS-232/422/485 for each port
Dual 10/100Mbps Ethernet for network redundancy
Support for TCP Server/Client, UDP, and Virtual Com multi-link mode
Configuration via Serial Console, Telnet, Web Server, Front Panel, or included Windows-based program
Alarm relay output for Network link-status
LCD Display & menu driven panel configuration
ALERT function sends email to warn of anomolies
The Multi-port Industrial Serial Server SE5408/SE5416 is a gateway between Ethernet (TCP/IP) and serial communication port devices. By providing either 8 or 16 individual RS-232/422/485 ports, it is ideal for central allows almost any serial device to be connected to a new or existing Ethernet network.
By encapsulating serial data and transporting it in standard TCP/IP or UPD/IP packets, the SE5408/SE5416 provides full-duplex, bi-directional transparent data transmission through Ethernet networks. The included PC virtual COM: port redirection software allows PC serial ports to be located anywhere on the TCP/IP network.
Easy to Use
Flexible configuration options enable setup over Ethernet by Telnet, Web browser, Serial Console, or other Windows utilities. Packed in a rugged metal housing with 19-inch rack mount and 100-240VAC wide power input range, SE5408/SE5416 is ideal for most any industrial and manufacturing automation.
This is a high performance server. Port speeds from 110 bps to 921Kb, multi-connection protocols, and advanced features set the SE series above all competing multi-port serial servers.
The SE5408/5416 is easily paired with our single port SCADA serial servers at multiple remote locations, for a compact, rack-mounted host end installation.
---
Modes Supported:

Nailed-Up Client/Server (transparent RS-232 connection upon power-up) in tunneling mode
TCP server: Server allows up to 8 remote TCP connections or virtual Com mode
TCP client: Client allows up to 2 remote TCP destinations or virtual Com mode
UDP server (any port) Allows up to 8 ranges of IPs for UDP destinations
UDP broadcasting (point-to-multipoint or multicast) to groups of receiving UDP server devices
Includes vitual com driver to allow the SE to function as a remote COM: port on Windows or Linux computers.
All SE models interoperate with other DCB and ATOP serial servers
Transmission control via various methods, inactivity timeout, interval timeout, buffer limits, termination character


Configuration Methods

Any Web Browser
Telnet Menu Interface Direct Connection Menu Interface
Included Windows configuration utility
Import and export saved configurations to a PC
Using LCD and front panel buttons


SNMP agent functionality included
Field upgradeable firmware
Hardware watchdog timer
Transport protocol is fully routable
Works through any IP link... satellite, ISP, routers, wireless, broadband, etc.

Supported Protocols

ICMP, TCP/IP, UDP/IP, DHCP client, NTP, DNS, SNMP, SMTP, HTTP, Telnet


Certifications

RoHS, FCC, CE, and others


Front Panel

Serial Port Activity LEDs for Tx and Rx
Power, Ready LED
LAN Status LED
4 Menu Buttons
Console DE-8 RS-232 connector


Rear Panel

Power
10/100BaseT LAN connecctors w/ 10/100 and Activity LEDs(2)
Alarm Relay (NC,Common, NO)
Recessed factory reset button
8 or 16 serial port RJ-45 connectors


Data Ports

Ports: 8 or 16 RS-232 ports
Interface: RS-232, V.24, or RS-422/485(4-wire/2-wire), software selectable
Speeds 110 bps to 921,000 bps
Connector: RJ-45 RS-232 (adapters to DE-9 and DB-25 cables available)
Protection: 15KV ESD
Flow Control: None, Xon/Xoff, RTS/CTS

Lan Connections

Interface: 2 10/100BaseT, Autodetect

Physical/Electrical

436mm x 43.5mm x 200 mm (W x H x D) ( 1U rackmount), rackmount ears included
1 lb
Power input 100-260 VAC,
Power consumption less than 8.5 watts
Operating Temperature: 0 to +60 C

---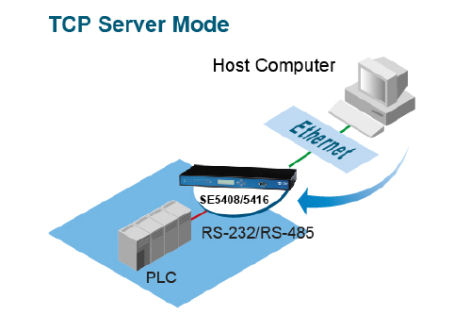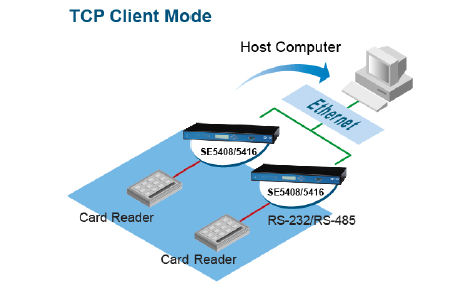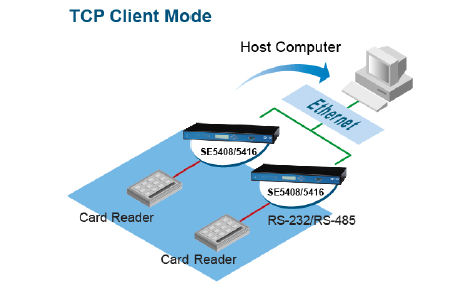 ---
These applications notes illustrate real-world applications of the DCB and Atop serial servers and help you apply the unit to solve
your
data communication problem.
"Using the EtherPath with Unix and PC Port Redirection" is an article that discusses the options available when using port redirection software and custom-written software to access remote serial ports with the EtherPat or Atop serial device server. Read the article!

"Globally Serial: Extending the Reach of your Serial Devices Around the World" is an article that recently apeared in information technology trade journals. This article discusses the use of DCB's device servers and how they are used to connect RS-232 serial devices using a wide area ethernet network. Read the article!

This applications note helps you select the one that best fits your needs. While the Atop SE5408/5416 can be configured for either TCP or UDP, you should use the protocol that best suits your needs. This white paper, while mentioning the DCB EtherPath and EtherPoll products is also relevant to the SE servers. It describes the advantages and disadvantages of both protocols. Read the article!
.




---

How to Order? Buy it on-line or call toll free 800-432-2638!

Item Number
Description
Price
Buy Now!
atop-se5408
8 Port Ethernet Serial Server
$ 695
Qty:
atop-se5416
16 Port Ethernet Serial Servers
$ 995
Qty:
9802097
RJ to PC-9 Pin female adapter used to connect to a PC COM: port
$12
Qty:
9802098
RJ to PC-9 Pin female adapter used to emulate a PC COM: port
$12
Qty:
ATOP-PC-25F
RJ to PC-25 Pin female adapter used to connect to a PC COM: port
$12
Qty:
ATOP-PC-25M
RJ to PC-25 Pin female adapter used to emulate a PC COM: port
$12
Qty:

---

Data Comm for Business Inc.
2949 County Road 1000 E
Dewey, Il 61840
Voice: 217-897-6600
Toll Free: 800-4-DCB-NET
Toll Free: 800-432-2638
Email: Contact Page
Web: www.dcbnet.com
Fax: 217-897-8023
All DCB web pages copyright ©1995- Data Comm for Business, All rights reserved.
EtherPath®, EtherSeries®, EtherPoll®, EtherBridge® and EtherModem® are Registered Trademarks of Data Comm for Business, Inc.